Book review
The truth about drug companies: How they deceive us and what to do about it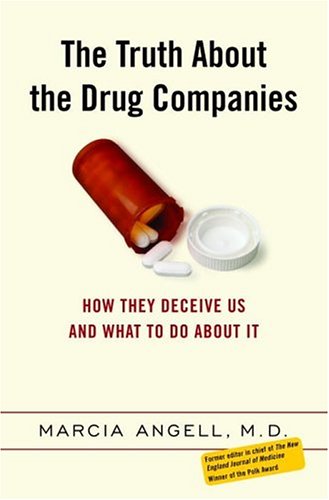 Marcia Angell was an editor at the New England Journal of Medicine for 21 years. Temporarily she was its editor-in-chief, before deciding not to apply for the permanent position because the owner of the journal, the Massachusetts Medical Society, was looking for someone to take it forward as part of a major new publishing division with a growing number of other publications and business initiatives. She is now Senior Lecturer in the Department of Social Medicine at Harvard Medical School.
Her book, The truth about the drug companies, exposes the pharmaceutical industry, concentrating on the United States, as primarily a marketing machine to sell drugs of dubious benefit. Since the early 1980s, the industry has almost consistently, by a considerable margin, ranked as the most profitable in the United States.
Of course, the pharmaceutical industry is made up of investor-owned businesses and it is their responsibility to maximise profits. This is legitimate, although there have been examples of fraudulent marketing, particularly by inflating prices to Medicaid and Medicare, sometimes in conjunction with kickbacks to doctors or pharmacy benefit managers. It may be harder to excuse the medical profession that comes under its vested influence and fails to adopt an impartial, unbiased stance on prescribing.
On the other hand, despite its rhetoric about the free market, big pharma takes advantage of government conferred monopolies in the form of patents granted by the U.S. Patent and Trademark Office and exclusive marketing rights granted by the Food and Drug Administration (FDA). The public may not necessarily be paying the right price, although developed countries apart from the United States attempt to regulate prices by different methods. Political influence ensures protection of monopoly rights and limits independent regulation. It seems to have been so successful in affecting attitudes that, for example, the UK Department of Health thinks there is no evidence of unhealthy influence.1
Angell proposes a range of reforms. There are two particularly important proposals - (1) FDA approval should only be given to genuinely innovative drugs, rather than as at present to me-too drugs made by competing companies; (2) an Institute for Prescription Drug Trials within the National Institutes of Health should take over from drug companies, who would no longer would be permitted to control clinical testing of their own drugs. Other proposals include better implementation of patent laws, limiting length of exclusive marketing rights, getting big pharma out of medical education, more transparency about company finances, and reasonable and uniform pricing.
As there are apparently few drugs in the pipeline to take the place of blockbusters going off patent and a growing resentment from the public over high prices, Angell thinks the industry is in difficulty, but I am not so sure. This is an excellent book. I would have liked to see more emphasis on medical responsibility to ensure the elimination of bias in clinical trials. The book's essential message needs to be taken seriously by the current UK parliamentary health committee inquiry into the influence of the pharmaceutical industry.2
References
Moynihan, R. Officials reject claims of drug company influence. BMJ 2004;329:679-681 (18 September), doi:10.1136/bmj.329.7467.679 [Full text]
The United Kingdom Parliament. Health Committee inquiry. The influence of the pharmaceutical industry. http://www.parliament.uk/parliamentary_committees/health_committee/hc180604_25.cfm
---
D B Double, Consultant Psychiatrist
Norfolk and Waveney Mental Health Partnership NHS Trust, dbdouble@dbdouble.co.uk