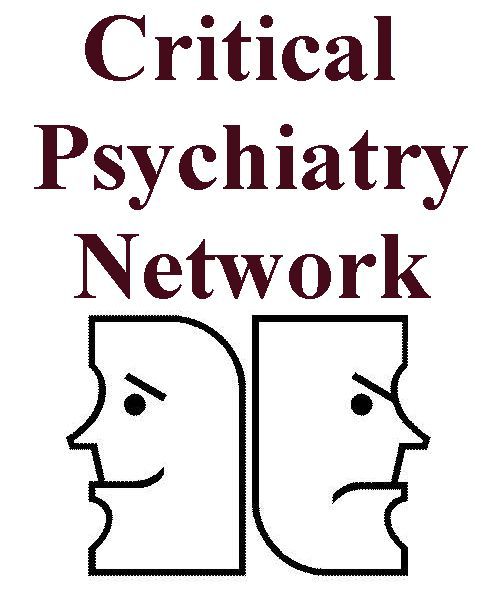 Annual Conference 2003
The Conference Centre at Church House, Deans Yard, Westminster, London,
Friday, 13 June 2003
THE LIMITS OF PSYCHIATRY
9-10am Registration
10-10.05am Mike Crawford, Senior Lecturer in Psychiatry, Imperial College of Science Technology and Medicine on behalf of the Critical Psychiatry Network
Welcome and introduction
10.05-10.30am Phil Thomas, Consultant Psychiatrist, Bradford District Care Trust & Senior Research Fellow, University of Bradford, author of "The Dialectics of Schizophrenia" and co-author of "Voices of Reason, Voices of Insanity"
Psychiatry or citizenship?
10.30-10.55am Joseph Berke, Director of the Arbours Crisis Centre, London, co-author of "Mary Barnes" and co-editor "Beyond Madness: PsychoSocial Interventions in Psychosis"
The right to be at risk
10.55-11.15am Coffee
11.15-11.40am Terry Lynch, Medical Practitioner and Psychotherapist, Limerick, author of "Beyond Prozac: Healing Mental Suffering Without Drugs"
Understanding psychiatry's resistance to change
11.40-12.05pm Rufus May, Clinical Psychologist, Assertive Outreach Team, Bradford District Care Trust & survivor of mental health services
White mental health professionals: Living with our racism
12.05-12.30pm David Smail, Special Professor in Clinical Psychology, University of Nottingham until 2000, author of "The Nature of Unhappiness"
Psychotherapy: How can we help?
12.30-1pm Discussion
1-2.30pm Lunch
2.30-3.25pm Keynote address:-
Valerie Sinason, Child psychotherapist, adult psychoanalyst, Director of the Clinic for Dissociative Studies & Consultant research psychotherapist at St George's hospital, author of Treating Survivors of Satanist Abuse and editor of "Attachment, Trauma and Multiplicity"
Labelling as a defence against trauma in learning disability, borderline personality disorder and dissociative identity disorder
Valerie's book Treating Survivors of Satanist Abuse addressed a subject that many professionals working in the field had been uncomfortable discussing. Her work in disability and abuse has consistently broken new ground in addressing subjects that many people have found initially hard to deal with.
3.25-3.45pm Tea
3.45-5.30pm Debate:-

"Antidepressants are no better than placebos"
Chaired by Simon Wessely, Professor of Epidemiological and Liaison Psychiatry, Academic Department of Psychological Medicine, Guy's, King's & St Thomas's School of Medicine and Institute of Psychiatry, London
Proposed by:-
Irving Kirsch, Professor of Psychology, University of Connecticut, editor of "How expectancies shape experience"
Joanna Moncrieff, Senior Lecturer in Social and Community Psychiatry, University College London
Opposed by:-
David Goldberg, Professor Emeritus, Institute of Psychiatry, King's College, London, co-author of "Common mental disorders"
Phil Cowen, Professor of Psychopharmacology, University of Oxford
(Further details about the debate)
5.30pm Conference ends

COST of the day
Statutory sector £130
Voluntary sector £110
Unwaged £85
* Negotiated reduced charge for survivors/service users £30
Attendance for the debate only £25
Print out the printable booking form and send with your cheque to Dr D B Double, Carrobreck, Hellesdon Hospital, Norwich NR6 5BE.
Further information from Dr D B Double, dbdouble@criticalpsychiatry.co.uk
Sponsored by


The magazine for democratic psychiatry
www.asylumonline.net
Subscribe