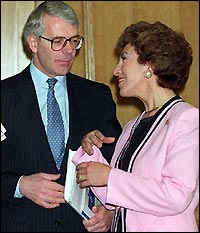 THE LOOK OF LOVE: John Major and Edwina Curry together. For four years they had a passionate affair. Now she is spilling the beans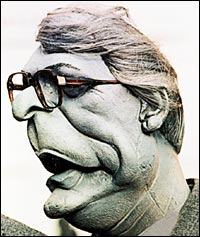 HE MAY HAVE BEEN GREY TO THE WORLD BUT HE WAS A VERY EXCITING LOVER
Edwina's astonishing
verdict on John Major
TORY John Major, derided as Britain's most dull and boring politician, turned into an astonishing superstud when he took lover Edwina Curry to bed.
For four years he treated her to marathon sex sessions at their lovenest—her flat in London.
And she breathlessly scribbled in her diary: "He may have been grey to the world, but he was a very exciting lover."
The shock truth about the former Prime Minister's sexual prowess is detailed in the latest extract from that diary, published in full in tomorrow's edition of The Times.
Ex-MP Edwina also reveals she used a code when she made notes about the illicit sex, referring to it as "exercise".
A source revealed: "Edwina rated John very highly as a lover. He was considerate and very skilled. They knew how to satisfy each other and did so regularly.
"Although there was a strong intellectual attraction the physical side of their relationship was just as powerful.
"Throughout the diary Edwina refers to their sexual activities as 'exercise'. It wasn't entirely misleading because John's performance certainly helped her fitness."
Whispered
Edwina also reveals how she and Major would arrange the times and places of their liaisons during whispered meetings in the corridors of Westminster.
The source added: "That not a single rumour of their affair circulated until these diaries were released shows just how hard they worked to keep it secret."
News of the affair is being greeted with astonishment. Political observers said it was Westminster's most unlikely coupling.
Major was mocked on TV's Spitting Image for wearing his shirts inside his underpants and eating peas with every meal.
But Liverpool-born Edwina is seen as outrageous and brash. She champions freedom for gays and has written six sexy novels based on personal experiences and her life in Westminster.
Edwina once insisted that "making a good political speech was far better than an orgasm".
She has also spoken openly of her sex-life with her new husband.
Unsurprisingly, she claims SHE seduced Major to begin their affair, which lasted from 1984 to 1988.
When it started Major was a government whip and Edwina a backbencher.
It ended shortly after Major joined Margaret Thatcher's Cabinet as Chief Secretary to the Treasury.
By then Edwina, who now presents Late Night Currie on Radio 5, was a junior Health Minister. She quit later in 1988 after she caused a row by saying most of Britain's eggs carried salmonella.
Edwina, now 55, says she and Major had been attracted to each other throughout the summer of '84.
In November, after the Tory Party Conference, he had teased her and upset her. Later he went to her office and they embraced. They then went back to her London flat and the affair began. Both were married and both had two young children. Major had married schoolteacher Norma Johnson in 1970. Edwina married accountant Ray Currie two years later.
Despite enjoying his part in the relationship for four years, 59-year-old Major—who is lecturing in America—yesterday spoke bitterly about the affair.
He said: ""Norma has known of this matter for many years and has long forgiven me. It is the one event in my life of which I am most ashamed and I have long feared it would be made public.".
Amazingly, Edwina told The Times in an interview that she fell for Major because he was RUTHLESS and DEVIOUS. She said: "Politicians admire the element of the devious in each other. It is essential in order for someone to rise that they have some streak of ruthlessness in their character.
"And he had it. He had it. He really had quite a Machiavellian streak about him, and if you're a politician you admire that.
Scandals
"And if we used each other a little bit that was all right, we would recognise that that was a sharing of experience and knowledge." The secret relationship also throws new light on Major's reaction to a string of sex and sleaze scandals which tore his government apart before the Tories were wiped out in the 1997 election. At first he stood up for colleagues such as David Mellor—famously exposed for having sex with actress Antonia de Sancha while wearing a Chelsea football strip.
Major's reaction can now be judged in the light of the skeleton in his own cupboard.
Remembering Major's difficulty in handling his accident-prone MPs, Edwina said: "Part of the fun was the thought that there John was sitting in the Whips' Office, sometimes discussing other people's affairs, and keeping very quiet about his own. And I loved that feeling."
At the 1993 Tory conference Major launched his Back To Basics campaign with a call for a return to old-fashioned morality. By the next year ELEVEN ministers and aides had quit in a welter of sleaze. Edwina told The Times: "Back to Basics was absolute humbug, wasn't it? I was at that party conference and I listened in absolute amazement. If you're asking me whether I thought that policy was a mistake? Absolutely."
In her interview Edwina several times breaks down in tears.
She says she continued to love Major until 1997. Asked if he was the love of her life, she replies: "At that time, yes."
Asked if she still loves him, she replies: "That's difficult." Then she weeps.
Edwina says she ended the affair because: "We could not continue without risking discovery."
She sobs too when asked if the affair left her feeling hurt.
"Much has been very, very hurtful to me." she says. "And I took it...and I said nothing...the most hurtful thing is to look at John's autobiography and find that I wasn't even in the index."Asked by The Times if Norma will be upset by her revelations she replies: "That's a bit of an understatement, isn't it?"
But she adds that Norma might be understanding because: "I loved John and so does she, so we'll have seen the same things in him.
"She's an admirable lady in her own right. She's a good, decent woman."
Edwina yesterday faced accusations that she only wanted to boost sales of her £18.99 diaries.
History
But she brushed off criticism. "This is the year 2002, nearly 2003," she says. "The making of a Prime Minister, it seems to me, is a profoundly significant piece of knowledge, piece of history.
"And this is part of the story that no one else has ever been able to think about."
Edwina even claims the affair may have helped Major become PM.
Major was the son of a trapeze artist whose garden gnome business later failed. Yet young John rose from his disadvantaged youth to be a Tory Premier. Edwina says: "There are lots of people who would like to know how to become Prime Minister. I don't say you should sleep with your colleagues, but if you get enough love and support, you might then be emboldened to have a go. And I think that's exactly what happened."
Edwina's ex, Ray, 57, would not come to the door at the home he shared with her during her time as MP for South Derbyshire.
Last night Edwina was on holiday at her second home in France. She is thought to be with John Jones, 61, a retired Met detective she married three years ago. Mr Jones has been told of the romance.
Lady Archer, the wife of disgraced Tory peer Lord Archer, told on radio of learning of the affair. She said: "I am a little surprised, not at Mrs Currie's indiscretion but at a temp-orary lapse in John Major's taste."